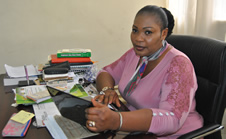 The polymer and textiles unit was up-graded in January 2013 to the status of a division in the chemical, fibre and environmental technology department due to the enormity of the research and development activities and services rendered by the division. Formerly, a unit in the old Fibre technology division, it was later made into a separate division with the aim to further focus research efforts in the area of polymer and textiles production and application technologies as this area has emerged in recent years to be of much socio-economic significance. Research areas include development of polymer composites from raw and waste materials which exists within the country, innovation in the tie and dye processes and development and application of biodegradable polymers in various industries such as cosmetics and pharmaceuticals. The division comprises of polymer scientists, chemical engineers, chemists, textile technologists and technicians.
Vision of the Division
 To be the foremost centre for research and development in the area of polymer and textiles
 Mission of the Division
 To conduct market driven research towards developing technologies relevant to micro, small and medium scale enterprises involved in the area of polymer and textiles.
 On-going Research Projects
1· Production of non-metallic vehicle car parts from Kenaf composites
2· Production of glycerol from biodiesel of waste cooking oil
3· Production and application of mechanical penetration enhancers (MPEs) from bio-degradable polymers
Developed Technologies
1· Polymer composite production
2· Polymer processing
3· Fiber extraction
4· Fiber spinning and weaving
5· Polymer and fiber testing
6· Tie and dye processes
7. Adhesives from cow bones
8. Adhesives from cassava starch
9. Cassava starch for pulp, paper & textiles
10. Agro-sacks production from kenaf, banana & plantain fibre
Contact the Division
CHIKA SCHOLASTICA EZEANYANASO; PhD
Deputy Director (Polymer & Textiles Division)
Email: This email address is being protected from spambots. You need JavaScript enabled to view it.;  This email address is being protected from spambots. You need JavaScript enabled to view it.
Phone number: +234-8030706476