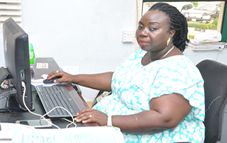 SERVICOM is an acronym for the word ''service compact'' NIGERIANS, which is centered towards delivery of quality service to all Nigerians. 
This was in view of the decision taken at the special Presidential Retreat on Service Delivery held at the state Banquet Hall in Abuja from 9th to 21st March 2004.
Consequently, the Federal Government mandated all Ministries and government agencies to provide quality service fairly, honesty and transparently to all Nigerian.
SERVICOM IN FIIRO:
 The SERIVICOM unit is vested with the responsibility of engaging in activities that could encourage improvement in service Delivery.  It was inaugurated on the 31st of July, 2006.
VISION STATEMENT: 
To be a catalyst of change by promoting best practices in the course of providing service delivery in Research Sector.
MISSION STATEMENT:
To improve the public service by providing leadership that is customer-centric in the area of service practice.
MANDATE:
To spearhead Parastatal's service delivery initiative through SERVICOM Compliance.
To produce, review and monitor performance of charters from Institute.
To facilitate a safe and conducive working environment for staff at all levels of service delivery.
To provide a comprehensive and effective training policy for staff or customer relations and related matters. 
STRATEGIC GOALS:
To provide quality service to the people.
To ensure good leadership.
To educate the citizens (customers) on their right.
To empower public officers to be alert to their responsibilities in providing improved efficient, timely and transparent service. 
MANAGEMENT AND ORGANIZATIONAL STRUCTURE. 
The SERVICOM unit in the Institute is headed by a Chief Admin Officer,
Mrs. Aderonke Aderemi-Badmos who serves as Nodal Officer and Head the Unit. The Nodal Officer reports directly to the DIRECTOR-GENERAL /Chief Executive Officer. The Institute's SERVICOM Unit has complimenting staff that are in charge of the following Critical Desk.
Charter Formulation Implementation and Review.
Customer Relations /curie Vance redress mechanism.
Service Improvement.
Support staff i.e Data Processing officer and Assistants for (i-iii) above.
FUNCTION OF SERVICOM OFFICE:
Co-ordinate the formulation and operation of SERVICOM Charters and Service Improvement Plans in MDAS.
Monitor and report progress and Performance of MDA's under SERVICOM obligations through compliance Evaluations using SERVICOM. Index
Carry out surveys of services and customers' satisfaction.
Publicize charters and sensitize the citizenry to demand quality service as a right at all times.
SERVICOM WORK ETHICS FOR STAFF:
The following are the SERVICOM work ethics for the staff in the Institute.
No officer should leave files unattended to for more than 48 hours.
No lateness to work
No absenteeism.
No loitering.
No closing before closing time.
Always be on seat.
Proper dressing and appearing responsible.
Be guided by the concept of quality service delivery.
All matters pertaining to Ad-hoc and special assignments should be handled within specific period.
Attend to client/customers politely and specify time targets for attending to them.
Reasons for delay should be explained politely.
Courtesy in dealing with people.
Maintenance of serene atmosphere.
 BENEFITS OF SERVICOM:
The Introduction of SERVICOM in the ministry/Institute will result in improvement in a number of critical areas;
Productivity.
Employee moral and sense of belonging.
Cost-effectiveness
Improved non staffing revenue to provide and maintain infrastructure.
Effective communication.
Good customer relations.
Team work.
The Ministry/Institutes image to the world. 
OBJECTIVES OF PROJECT SERVICOM:
Sensitization of officers on the existence and relevance of SERVICOM to growth.
Providing recourse for customers when service delivery fails.
Provoking communal participation in SERVICOM Programs.
Engendering an attitudinal revolution amongst members of staff.
 Promoting the virtue of accountability, openness, honesty, selflessness among public office holders as catalysts for organizational growth.
MATERIAL AND METHODS:
SERVICOM registers with columns for names, official, designation, time in signature, time out signature.
Red and blue pen for ruling (8:30am and 9:00am) and comments.
SERVICOM officers' designated to particular Departments or Divisions who go around to rule at appropriate time.
SERVICOM meetings to review level of compliance.
SERVICOM Notice Boards for public announcements.
Feedback from service tokens.
Customer satisfaction survey.  
SERVICOM INDEX:
SERVICOM Index is a quantifiable performance index that is used in evaluating and estimating the quality of service delivery by the Federal Government through its various Ministries, Departments and Agencies (MDAS).
There are five droves of the index namely:
Service delivery – willingness to help customers and provide promised service.
Timeliness – delivery prompt service.
Professionalism – people prefer to be served by knowledgeable, courteous and confidence-inspiring staff.
Information – customers like to be told where, when and how long it will take for service to be rendered.
Staff attitude – customers like to be valued and want caring individualized attention.
Each of these drives contain further entical elements that will form the basis for deterring performing and non-performing organizations. Therefore, the survival of any organization, budgetary approvals, its image, reputation and job security of its workforce depend on this SERVICOM Compliance assessment.
OFFENCES AGAINST SERVICOM:
Absence without leave ( AWOL )
Lean mismanagement (rigmarole, loafing).
Chronic Lateness.
Threats to SERVICOM officers (direct and indirect).
Unnecessary delays in taking actions relating to staff, letters and enguiries (freedom of information), mutilation of file.
Refusal to clock in and out at Departmental or Divisional levels (Ghost working).
Destruction of SERVICOM registers.
Non-compliance with movement registers.
Turning your office into a market place to the detriment of official duties (misplacement of primitives).
Name tag abuse.
Inaccessibility.
Cloning of signatures for another person.
Customer care.
Delay in treating official files.
Approvals without releasing of funds.
Mismanagement of official funds.
Keeping of files by officers.
CONSEQUENCES FOR SERVICOM NON-COMPLAINT STAFF:
Issuing a query
Issuing warning letter.
Setting up a disciplinary committee to recalcitrant staff which might recommend for the staff to be suspended or his/her appointment terminated.
SERVICE DELIVERY IN FIIRO:
For the services rendered in FIIRO, all transactions must be reported to the Director of the department concerned and duly registered.
Payments for all services rendered must as well be paid into the Treasury Single Account (TSA) and evidence of payment produced before service delivery.
Furthermore, all complaints should be made through SERVICOM Unit of the Institute in case of dissatisfaction with service rendered.
CONTACT THE HEAD OF SERVICOM
Mrs. Aderonke Idayat Aderemi-Badmos
Nodal Officer
BSc (Public Administration)
MSc (Public Administration)
Phone No: 08104374709
Email: This email address is being protected from spambots. You need JavaScript enabled to view it.