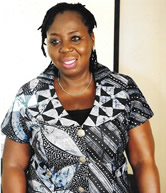 Vision of the Division:
To be the division of excellence that will effectively develop virile and sustainable global partnership between FIIRO and other stakeholder organizations.
Mission statement of the Division:
To create functional synergy between FIIRO and other organizations for effective funding, linking and extension of FIIRO's technologies.
FUNCTIONS OF PARTNERSHIPS & ZONAL OFFICES COORDINATION DIVISION
Partnership & Zonal Offices Coordination Division shall have the following functions:
To develop virile, sustainable partnerships with tertiary institutions, governmental and non-governmental organizations, both local and international.
To assist in developing standard MoUs format for various stakeholders and organize MoU signing ceremony in conjunction with the Institute's Legal Unit.
To link the Institute with various donor agencies for R&D funding, technology extension programme to industries, youth and women groups in conjunction with the Institute's Management Committee on External Grants.
To oversee the planning, coordination and execution of Zonal Offices programs and activities to ensure conformity to management objectives.
To facilitate financial, administrative and logistic supports for efficient functioning of the Zonal Offices.
To facilitate and coordinate Quarterly Meetings of the Heads of the Zonal Offices with the Management.
Promote welfare of the Zonal offices personnel and organize annual best Zonal Office award.
To monitor and prepare progress reports on the activities of the Zonal Offices.
To plan and organize seminars, workshop, retreat etc for Zonal officers and personnel to enhance their job performance.
To keep abreast the Zonal Offices of recent developments at the Institute.
To effectively disseminate R&D results to end user industries, represents and make relevant presentations on behalf of the Institute upon invitation by its various stakeholders.
To continuously develop and implement strategies that will reduce paper responses to enquiries through interactive, friendly and informative auto response system, "frequently asked questions" and to answer enquiries on the Institute's activities.
Contact the Division
Mrs. O.F Odediran
Deputy Director, Partnerships & Zonal Offices Coordination Division
Email Address: This email address is being protected from spambots. You need JavaScript enabled to view it.  
Tel No: +2348023164201