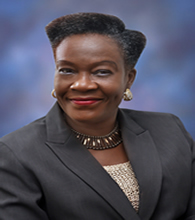 Brief on the Division
The Industrial Linkage Division was set up to fulfill the DG's vision of commercialization through Entrepreneurial skills and industrial linkage.  It is the link between FIIRO and other relevant stakeholders (government agencies, organized private sector, financial institutions and international agencies and non-governmental organizations) for commercialization of FIIRO developed R&D results and innovative activities for the purpose of generating spin-offs and spin out companies.  The division fosters inter-agency cooperation, collaborative research R&D funding.
Vision 
The vision of Industrial Linkage Division is to link the Institute with industry, relevant government and non-governmental agencies and the world for commercialization of R&D results in promoting industrialization and sustainable development.
Mission
To ensure that market-driven research projects are embarked upon through interactions and collaboration with the organized private sector (OPS).
To establish effective sustainable legacy for the exploitation of R&D results and other science and technology innovation activities developed by FIIRO.  This would be linked to the industry and entrepreneurial individuals for the purpose of spin-offs and spin out companies for wealth creation.
To carry out industry survey, needs assessment studies and economic sectors by sector studies of industries relevant to FIIRO mandate.
Mandate
To promote FIIRO-industry linkage and exchange programmes.
To facilitate rapid commercialization of the Institute's R&D results through market-driven R&D projects originating from the industries.
To effectively disseminate R&D results to appropriate end user industries.
To organize regular industrial visits to the industries
Provide ready financial resources for the Institute to upgrade its R&D facilities as supplement to government funding.
FUNCTIONS OF INDUSTRIAL LINKAGES DIVISION
Industrial Linkages Division shall have the following functions:
To coordinate all the activities that relates to industries in the Institute.
To disseminate strategic information on R&D results of the Institute to user industries.
To relate with industries, trade associations (such Manufacturers Association of Nigeria, National Association of Small Scale Industrialists, National Association of Small and Medium Entrepreneurs etc.), to facilitate effective commercialization of R&D results
To carry out Needs Assessment Survey of Industries.
To organize and facilitate Industrial Visits by the Institute to industries and industries to the Institute with a view to promoting effective partnership/collaboration and to market the Institute's services and programs.
To initiate contract and sponsored researches with industries.
To coordinate and promote FIIRO-Industry exchange programs.
To organize lectures, seminars, conferences, symposia etc in disseminating new technological development to industries.
To effectively disseminate R&D results to end user industries, represents and make relevant presentations on behalf of the Institute upon invitation by its various stakeholders.
To continuously develop and implement strategies that will reduce paper responses to enquiries through interactive, friendly and informative auto response system, "frequently asked questions" and to answer enquiries on the Institute's activities.
Contact the Division
Head, Industrial Linkage: Omoh Unuigbe
Email Address: This email address is being protected from spambots. You need JavaScript enabled to view it.; This email address is being protected from spambots. You need JavaScript enabled to view it.
Tel No: +2348097308003; +2347061109988