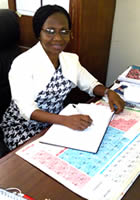 The present Analytical Services Division of FIIRO came into existence in April 1974.  Being part of the Industrial Chemical Division of FIIRO,the creation of the Division was sequel to the increased demand for the analytical services of the Institute by the private and public sectors of the Nigerian Economy Operating in the food, chemical, and allied industries.
Vision of the Division:
To be one of the best Analytical laboratories serving Africa and the International Community.
Mission of the Division:
To conduct accurate and precise analyses with state-of-art analytical equipment using skillful, seasoned and competent professionals for quality service delivery.
SECTIONS AND FUNCTIONS:  
The Analytical Services Division is divided into the following sections:
1. Chemical.
2. Microbiology.
The functions of the division are as follows:
1. Chemical and microbiological analysis of raw materials, semi-finished and finished products.
2. Provision of parameters for the standardisation of industrially manufactured products.
3. Routine quality control and safety evaluation checks on foods and food products for the purposes of registration of the products with National Agency for Food, Drug Administration and Control (NAFDAC) and for ascertaining standards specifications as set down by Standards Organisation of Nigeria (SON).
4. Training of quality control personnel from industries and students of tertiary institutions on quality control analysis and operational use of instruments (AAS, HPLC, UV/VIS Spec, GC-MS). 
5. Provision of analytical services in support of FIIRO R&D projects.
6. Research and Development activities.
7. Development, verification and validation of analytical methods/procedures.
8. Providing Analytical Consultancy Services to individuals, researchers, students in tertiary institutions, Non-Governmental Organisations (NGO), industries, parastatals/agencies of Government, Micro, Small and Medium Scale Enterprises (SMEs) and large scale entrepreneurs.  
ON-GOING PROJECTS:
1. Production and packaging of Water Sanitizer:
(a) Formulation and compounding of Water Sanitizer from available Chemicals.
(b) Physico-chemical and Microbial Assessment of the Formulated Water   Sanitizer.
(c) Toxicological study of the Sanitizer.
(d) Packaging (sachet/infusion/tablet) of the Sanitizer.
(e) Pilot plant scale up of Sanitizer.
2.  Production of Activated Carbon from Agro wastes:
(a)  Preparation and carbonization of cow bone, PKS and Coconut Shell.
(b)  Preservation and activation of the samples.
(c)  Characterization of the Activated carbon to ascertain quality.
(d)  Scale-up to Pilot plant.
Contact the Division:
Dr. (Mrs) Kayode Olabisi Funmi
Ag. Director (Analytical Services Division)
E-mail:  kayodeThis email address is being protected from spambots. You need JavaScript enabled to view it.; olabadejo2016This email address is being protected from spambots. You need JavaScript enabled to view it.
Phone No:  +2348035750656 and +2348023594459