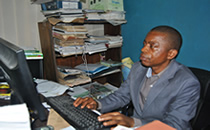 The division is created to transform agro raw materials into finished/semi-finished products for commercialization purposes using in-house developed process technologies.  For examples raw materials like cassava, soya beans natural palm wine etc are transformed into semi-finished/finished products.
Vision of the Division:
To achieve core competence in the production and commercialization of FIIRO research efforts.
Mission of the Division: 
To enhance clear leadership in the existing or new core consumer product categories in which we choose to compete and to make FIIRO products a household name in Nigeria.
The division is charged with the following:
1. The commercialization of FIIRO research results into tangible products for every household.
2. To set up the present research results from FIIRO into total technology packages that will be readily available to investors.
3. To set up pilot/commercial scale production lines to serve as incubation centres for various technologies developed by FIIRO and other stakeholders involved in individual research.
4. Providing facilities for commercial production of specific food products for clients who cannot afford such facilities but are interested in local production.
5. Offering technical consulting services in setting up, test running and commissioning production plants especially in cassava processing, cereal grain processing, Emu/Zobo drink production and the likes.  
SECTIONS AND FUNCTIONS:
The production division is divided into the following sections:
a. Pilot plant.
b. Bread and confectionery.
c. Marketing section.
d. Technical and training section.
A.        PILOT PLANT:
This section is responsible for the following:
1. Production processes involving transforming industrial raw material from FIIRO R&D efforts into finished/semi-finished products ready for the market.
2. To make technical services available to entrepreneurs who bring in their raw materials for processing and packaging for a fee, especially those who do not have the funds required for setting up production plants.
3. To make sure that products are always available for buyers at the marketing section.
4. Direct supervision of all activities of pilot plant operations.
B         BREAD AND CONFECTIONARY:
This section is charged with performing the following functions:
1. Production of cassava bread using 10% substitute of cassava flour to bake bread and confectioneries in commercial quantities.
2. Liaising with relevant staff in training of entrepreneurs on baking of bread/confectioneries with 10% cassava flour substitute during our regular technology transfer training workshops within and outside FIIRO.
3. To make bread available for interested buyers at the marketing section and outside FIIRO.
C.        MARKETING SECTION:
This section is responsible for the following:
1. The marketing/sales of products from the division to perspective customers.
2. To keep inventory of raw materials and finished products.
3. To prepare sales accounts report quarterly, half yearly and annually.
4. Sourcing market for the division's products from private and corporate organizations.  
D.        TECHNICAL AND TRAINING SECTION:
The technical section is composed of chemical engineers and agric engineers are charged with the following responsibilities.
 1. Understudy all the process equipment.
 2. Production process troubleshooting.
3. Design of facility layout.
4. Conducting training in production process and supervision of factory production lines for clients. 
5. Development of Training manuals on equipment specification and functionality.
At present, the division is producing the following products in commercial quantity:
1. Bottled palm wine.
2. Odourless fufu flour.
3. Cassy Bread.
4. Soy ogi (infant and adult formula).
5. Contract production of various commodities.
ONGOING PROJECTS:
1. Redesign and optimization of FIIRO processing equipment.
2. Characterization of FIIRO processing equipment including fish smoking kiln.
3. Development of standard operating procedure for FIIRO processing equipment.
PROPOSED PROJECTS
Setting up of training/production lines for the following products:-
1. Soap Training Line
2. Fruit Juice
3. Cowpea Processing
4. Plantain Flour
5. Electroplating (training line)
6. Refurbishing of fish smoking kiln for training/workshop outside FIIRO
ACHIEVEMENTS
1. Setting up of kings' college bakery
2. Setting up of Owode cassava processing plant
3. Design of FIIRO tomato processing plant (kano)
Contact the Division:
ENGR. FELIX E.  AJUEBOR
Deputy Director (Production Division)
Email:  This email address is being protected from spambots. You need JavaScript enabled to view it.
Phone No: +2348034545899.