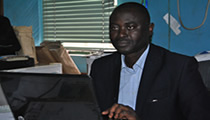 Brief on the Division
The Division is one of the core operational Divisions of the Department. It is the heartbeat of all Research and Development activities in the Institute.
It comprises two sections namely:
Research and Statistics
Planning and Budgeting
 VISION
 To be the foremost Division in achieving the vision of the Department
 MISSION
To facilitate and effectively coordinate Research and Development of FIIRO technologies through the deployment of project management processes
MANDATE
Strategic Planning for the Institute
Coordination of R & D Activities
Monitoring & Evaluation of Research Projects and other Non-Research Activities
Organization of FIIRO weekly Staff Seminars, including Invited Guest Seminars and FIIRO Distinguished Guest Lecture Series.
Completion of Questionnaires on FIIRO and its activities/achievements.
Divisional Contact
Ajayi T. O. (Mr.)
B.Sc; M.SC - Food Technology; Certified PRINCE2 Practitioner
Deputy Director,
Planning Research and Statistics Division,
Planning Technology Transfer Information Management Department,
Federal Institute of Industrial Research, Oshodi (FIIRO),
P.M.B. 21023 Ikeja, Lagos, Nigeria
e-mail: This email address is being protected from spambots. You need JavaScript enabled to view it.; This email address is being protected from spambots. You need JavaScript enabled to view it.; timojay@hotmail.com