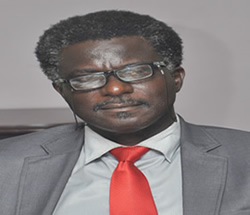 VISION STATEMENT
To deliver the Institute's products and services to all its stakeholders in Nigeria and beyond.
MISSION STATEMENT
To continually develop and implement robust strategies that will effectively and efficiently connect and deliver the Institute's products and services to relevant stakeholders in Nigeria and beyond.
                DEPARTMENTAL STRUCTURE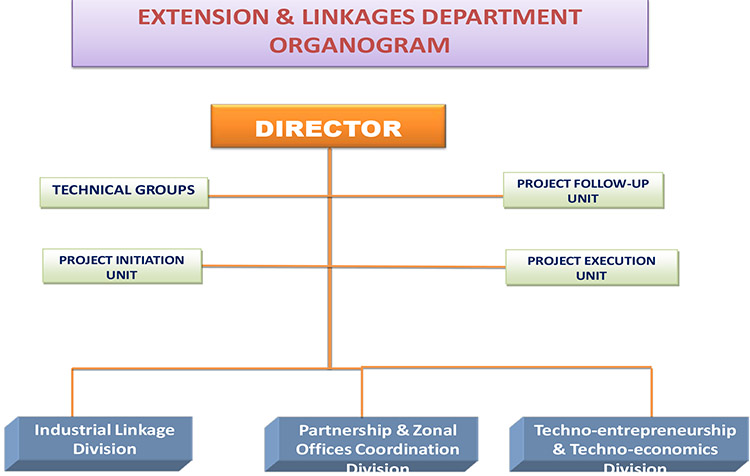 FUNCTIONS OF EXTENSION AND LINKAGES DEPARTMENT  
To promote FIIRO-Industry linkage and exchange programs.
To facilitate rapid commercialization of the Institute's R&D results through market driven R&D projects originating from the industries through Needs Assessment Survey of Industries.
To effectively disseminate R&D results to end user industries, represents and make relevant presentations on behalf of the Institute upon invitation by its various stakeholders.
To organize regular Industrial Visits to the industries as well organizing reception for stakeholders' on courtesy/working visit to the Institute.
To develop virile, sustainable partnerships with other stakeholders aside from industries including tertiary institutions, governmental and non-governmental organizations, both local and international and to assist in developing      standard MoUs format for various stakeholders.
To provide link with various donor agencies for R&D funding, technology extension program to industries, youth and women groups in conjunction with the Institute's Management Committee on External Grants.
To organize statutory workshops, seminars, conferences, roundtable discussions, stakeholders' meetings etc on topical issues relating to the mandate of the Institute.
To coordinate the activities of the Zonal offices and monitor progress to ensure that the management objectives for the Zonal offices are attained.
To produce extension/promotional documents including industrial profiles, pre-feasibility reports, e-bulletins and so on.
To carry out techno-economic evaluation of technologies developed at the Institute with a view to generating investment data for extension and linkage purposes.
To extend FIIRO technologies to various end users through techno-entrepreneurship training designed to suit various target groups.
To continuously provide relevant contents for updating the Institute's website to be redesigned in conformity with such contents and to promote web based financial transactions with the Institute by its stakeholders.
To continuously develop and implement strategies that will reduce paper responses to enquiries through interactive, friendly and informative auto response system, "frequently asked questions" and to answer enquiries on the Institute's activities. 
PRINCIPAL OFFICERS OF THE DEPARTMENT
DIRECTOR: DR. DELE OYEKU
Email Address:    This email address is being protected from spambots. You need JavaScript enabled to view it.; This email address is being protected from spambots. You need JavaScript enabled to view it.; This email address is being protected from spambots. You need JavaScript enabled to view it.
Tel. No:                +234-80-2341-5016; +234-9061297978