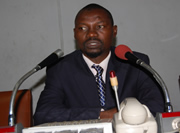 Vision of the Division
 To be a world-class laboratory research centre for pulp and paper technology
 Mission of the Division
Our mission is to proffer solution to challenges facing paper mills due to high cost of importing long fibre pulps.
This will be achieved by;
Continuously carrying out consistent screening of local wood and non-wood plants for long fibre pulps; Studying the process technology, mechanism and various pulping methods for these woods and non-wood materials.
 Current Research Projects
 1. Production of pulp and paper from agro-wastes and certain annual grass plants using secondary fibre formulation.
 2. Biochemical pulping of agro-wastes materials
ACHIEVEMENTS;
1.      Sourcing of long and medium length fibre pulps from locally available woods and non-wood materials. Amongst the woods and non-woods investigated include; Gmelina arborea, Bambusa strictus, Terminalia ivorensis, Cedrela odorato, Musanga cecropiodes, Oxystigma manni, Dendrocalamus arundinacia, Rhizophora racemosa, Ceiba pentandra, Adansonia digitata, Bombax buonopozense, Sterculia setigra, Polyata longifolia, Kenaf(Hibiscus cannabinus), Cocchorus olitorius, Empty palm fruit bunch, just to mention a few.
2.      Utilization of wood wastes for production of various boards and other industrial applications.
3.      Use of water Hyacinth(Echhornia crassipes) for pulp, paper and board productions.
Among its various functions are;
1. Screening of local wood and non-wood plants for suitable sources for long fibre pulps.
2. Development of process technology and mechanism for pulping of various plant materials.
3. Production and characterization of paper samples and packaging materials from various pulps.
4. Industrial training programmes to college and university students.
 Contact the Division
Dr. F.A.T Owolabi (FIOR)
Deputy Director (Pulp & Paper Technology Division)
PhD (Bioresources Pulp & Paper)
MSc. (Organic Reaction Synthesis)
BSc. (Chemistry)
 E-mail: taiwo.owolabiThis email address is being protected from spambots. You need JavaScript enabled to view it.; fathok2375This email address is being protected from spambots. You need JavaScript enabled to view it.om; fathok2375This email address is being protected from spambots. You need JavaScript enabled to view it.om; 
 Phone: +2349078445517