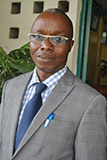 Laboratory management division is to meet specific requirement in order to reduce risks in product failure, health risk company reputation or to meet legal or customer requirements and to motivate staffs by setting clear goals for the development of its quality management system.
Vision of the Division: 
To formulate policies in relation to effective laboratory standards in accordance with ISO1702:2005, in conjuction with other relevant stakeholders (divisions), proper installation of acquired equipment, laboratories fumigation, periodical pest control and proper disposal of expired unlabelled chemicals and defective equipment in accordance with international best protocols.
Mission of the Division:
To improve the performance of laboratory activities and focusing on the term" QUALITY" in accordance with current good laboratory practice.
STRATEGIES:
Determination and specifying the method of equipment and chemical procurement with a view to reducing or fully eliminate expired chemicals and defective equipment.
Routine maintenance to effectively reduce frequent breakdown of equipment and apparatus.
Weekly walk round of all the laboratories to carried out for on spot assessment of needed, urgent repairs and maintenance required.
Proper documentation implementation and management of good laboratory ethics.
Compilation of frequent and commonly consumed chemicals and glass wares.
SECTIONS AND FUNCTIONS:
EQUIPMENT MAINTENANCE:
To determine accurate methods of equipment procured with the assistance of research officers, equipment calibration and standardization, preparation of standard operating procedures (S.O.P), to carry out routine maintenance as preventive measure, removal of defective/obsolete equipment in accordance with lay down rules, to collaborate with qualified service Engineering for training and repairing of complex equipment.
SAFETY SECTION:
Safety in laboratory management is to reduce the health risk of personnel in the laboratories.
PROCUREMENT AND DOCUMENTATION SECTION:
Procurement and documentation is to ensure prompt purchased of research materials, ascertain quality of materials purchased and to create data base for monitoring overall consumption rate of all consumables in order to determine re-order level.
SANITATION AND ENVIRONMENTAL SECTION: 
To create conducive environment for research work by routine cleaning, fumigation, bathing, removal of expired, unlabelled chemicals and damaged equipment.
GLASSBLOWING SECTION: 
Provides essentials glass ware repairs, maintenance and reconstruction.
LABORATORY SERVICES SECTION:  
An essential function critical to success of all laboratory research work in any organisation.    
CONTACT OF THE DIVISION:
MR. O.J. OMOWUMI
Deputy Director (Laboratory Management and Services Division)
Email: This email address is being protected from spambots. You need JavaScript enabled to view it.; This email address is being protected from spambots. You need JavaScript enabled to view it.
Phone No: +23408101717682.