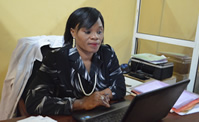 The Analytical laboratory of the Federal Institute of Industrial Research, Oshodi (FIIRO-ANALAB), is a well-equipped laboratory with state-of-art analytical equipment professionally and skillfully manned by trained experts/analysts. The division renders services to individuals, corporate organizations, Small and Medium Scale Enterprises (SMEs), researchers, students in tertiary institutions, Non-Governmental Organizations (NGOs), government agencies, private and public enterprises amongst others. Routine and investigative analyses are conducted for variety of products ranging from raw materials, agro-allied products, industrial products, animal feed, food products, water, industrial effluents, beverages (alcoholic and non-alcoholic), cosmetics (soaps, toiletries, creams, lotions, and liquid detergents), fine chemicals, solid minerals and other essential products for registration with the National Agency for Food Drug Administration and control and the Standards Organization of Nigeria (NAFDAC/SON).

Facilities available include the following:
1. Gas chromatography-Mass Spectrometer (GC-MS)
2. Atomic Absorption Spectrometer (AAS), with graphite furnace and Mercury Vapour kit.
3. Ultra Fast Liquid Chromatography (UFLC)
4. High Performance Liquid Chromatography (HPLC)
5. Diode Array 7200 Analyzer (NIR-DA 7200)
6. UV/Vis Spectrophotometer
7. Rapid Moisture Analyzer
8. Kjeldahl Equipment
9. Fat Extractor (Soxtec)
10.Fibretec
11.Autoclave
12.Incubator
13.Melting point apparatus

Typical Applications
1. Analysis of raw materials
2. Analysis of intermediate/finished products
3. Analysis of foods, beverages, feeds, water and waste water.
4. Analysis of additives (e.g. preservatives e.t.c)
5. Analysis of trace elements and metals
6. Analysis of heavy metals
7. Analysis of vitamins (water and fat soluble)
8. Characterization and identification of organic compound/constituents of samples.
9. Assay determination of fine chemicals and salts.
10.Solid mineral analysis.
11.Analysis of toxins (e.g. cyanide, aflatoxin e.t.c)
12.Analysis of oil and fat
13.Analysis of cosmetics
14.Analysis of hard wood charcool

Quality Assurance & Quality Control Services
FIIRO's analytical laboratory undertakes routine quality control and safety evaluation checks on foods and food products for the purposes of registration of the products with National Agency for Food Drug Administration and control (NAFDAC) and for ascertaining standards specifications as set down by Standards Organization of Nigeria (SON).
These include:
Protein, total sugar, starch, Ether extract, crude fibre, ash, carbohydrate, trace elements, vitamins and cholesterol.
We also offer microbiological analysis and safety evaluation of food and non-food materials. The services provided include the following:
1. Evaluation of total viable aerobes, yeast, mould, coliform, E-coli e.t.c
2. Detection of Salmonella, Shigella, Staphylococcus and other pathogenic species
3. Consumer complaint investigations
4. Shelf-life studies
FIIRO has recorded another milestone in achieving its vision of becoming the foremost centre of excellence in science and technology – based research and development for the industrialization and socio-economic advancement of the nation. On Thursday 9th August, 2018, the Institute was presented with the ISO/IEC 17025/2005 certificate for accreditation of its central Laboratory.
Nigerian National Accreditation Service (NINAS) presented the certificate to the Honourable Minister of science and technology. FIIRO is the first research institute under the Federal ministry of Science and technology to receive such accreditation.
Acquiring ISO/IEC 17025:2005 certificate is a major achievement and a step in the right direction for FIIRO in becoming a leading research institute in Nigeria and globally. It would also enhance competitiveness of Nigerian products by small, medium and Large enterprises in Nigeria.
The scope of accreditation incudes:
FOOD:              Elemental/trace metal
                          Food & Drugs (Vitamins)
                          pH water/Food 
                          Ash in Food
                          HPLC technique in food Analysis
NON-FOOD:   Ash (Non-food) Charcoal
                         Moisture
                         Volatile Matter
                         Self-Ignition Test (Charcoal)
                         Fixed Carbon

Training Programs:
Training of personnel on quality control analysis
Training of personnel on operational use of instrument (AAS, HPLC, UV/Vis Spec, GC-MS)

CONTACT THE DIVISION
Dr. (Mrs) Adebukola Selimot Huthman
Deputy Director (Analytical Laboratory Marketing)
PhD (Chemistry), MSc (Environmental Chemistry), PGD (Analytical Chemistry)
This email address is being protected from spambots. You need JavaScript enabled to view it.; This email address is being protected from spambots. You need JavaScript enabled to view it.
+2348066525830; +2348099722634