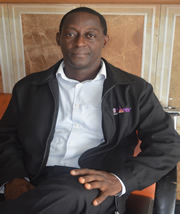 The material development and metallurgy division forms an integral part of the project development and design department.  The core mandate of the division is research and development into materials as industrial intermediate as its rate to minerals processing, biodegradable and biomass and Foundry technology.
Vision of the Division
Utilization of the vast economic raw materials for the industrialization of the national economy.
Mission of the Division
Research and Development into material technology and beneficiation for local industries.
 ON GOING RESEARCH PROJECT:
- Development of a Biopolymer composite material for food packaging:  A Nano technology process.
- Development and production of Brake pad from Agro-waste.
- Development and production of Nano clay for material properties enhancement.
This Division is made up to three SECTIONS; namely:-
1. Foundry & Metallurgy
2. Material Processing/Ceramics
3. Electroplating
FOUNDRY & METALLURGY SECTION
This section carries out the following activities:-
1. Production of various patterns for spare parts.
2. Casting of both ferrous and non-ferrous metal spare parts
3. Casting of Aluminium, Copper, Zinc ingots
4. Various Heat treatment Operations
5. Mechanical and Metallographic analysis
6. Testing of Foundry properties of clay and sand
7. Support research activities in the Institute
8. Consultancy and Technical Services
9. Training of I.T. students
MATERIAL PROCESSING/CERAMICS
This section carries out the following activities:
1. Characterization of non-metallic minerals
2. Develop a beneficiation process for non-metallic minerals
3. Process and develop an intermediate chemicals from minerals raw materials
4. Develop and process minerals for ceramic glaze production '
5. Consultancy services
6. Training of I.T. students
ELECTROPLATING SECTION
Electroplating section provides material finishing to metals and equipment.  Hence, it covers the following:
1. Electroplating of metal spare parts using Nickel, Chromium, Zinc, Copper, Tin.
2. Plug refurbishing
3. Surfactant development for cleaning, derusting, degreasing
4. Analysis of electrolytes
5. Consultancy and Technical Services.
Contact the Head of the Division
Dr (Engr) Bankole, Lateef Kolawole
Deputy Director,  (PEDS)
PhD in Material Engineering
Master of Science in Mechanical Engineering
Bachelor of Science in Metallurgical Engineering
E-mail: kolawoleThis email address is being protected from spambots. You need JavaScript enabled to view it.; latbankThis email address is being protected from spambots. You need JavaScript enabled to view it.m
Phone No :+234-8138528386; +234-9051667299
Professional Membership
Registered Engineer, Council for the Regulation of Engineering in Nigeria (COREN)