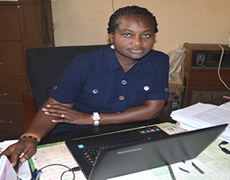 Food Safety and Quality Management division came into existence in the year 2013 in order to meet the global food standards considering the fact that consumers are becoming more aware and countries demanding that food be safe for consumption as the developed countries. To this end, this division has the mandate to ensure that food products developed, produced and transferred to consumers and SMEs for large scale production by FIIRO satisfies the global food safety standards. Also, the division ensures that FIIRO maintains global quality standards through application of quality management system.
Vision of the Division
Taking FIIRO products and trainees into global standards in terms of food safety and quality mangement systems.
On-going Research Projects
Microbial production of Phytase as feed supplement for livestock.
Isolation and characterization of high sugar, high alcohol tolerant yeast.
Fortification of Kunun-zaki beverage.
Other Academic Research Projects
Food Safety unit
Survey of major food borne pathogens in FIIRO.
Verification of quality index on FIIRO food products.
Quality Management unit
Quality management: a means to FIIRO customer satisfaction.
Quality management as tool for enhancing FIIRO task force teams.
Past Technologies developed by Food Safety and Quality Management Staff
Production of table wines from locally available fruits, vegetables and flowers.
Production of light and dark ales.
Local technology for Oxytetracycline and Tetracycline production.
Production of shelf stable Kunun-zaki beverage.
Upgrading of the local technology of ogiri production, a food condiment from melon seeds (Cucumis spp.).
Quality systems for soy-ogi production.
 Trainings offered by the Division
(i) Writing of SOPs
(ii) Pre-requisite programmes
(iii) HACCP
(iv) Writing of quality manuals and policies (Quality and Food safety).
(v) GMP, GHP
(vi) Fundamentals of food safety
(vii) Fundamentals of quality management
 CONTACT THE DIVISION
Adeyoju Olubamike Adetutu (Mrs)
Deputy Director  (Food Safety & Quality Management Division)
MSc (Analytical Chemistry) BSc (Chemistry)
E-Mail Address: This email address is being protected from spambots. You need JavaScript enabled to view it. and This email address is being protected from spambots. You need JavaScript enabled to view it.
Phone No: +2348033318422 and +2348187516250