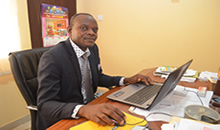 About the Division
FIIRO started aggressive technology transfer programme on its developed technologies in 1986 during the Structural Adjustment Programme (SAP) of the then Military Government which encouraged all public funded Institutions to look inward towards using their mandates to promote national economic development.
Ten years later after the introduction of the technology transfer programme, an Adoption study was carried out which indicated that the rate of adoption of the Institute's technology was 41%. The study also revealed that some entrepreneurs failed in their businesses due to lack of entrepreneurial skills to run their businesses. Subsequent adoption studies by the Institute also gave similar reason for business failure. This was the motivation for the establishment of a Division that will take care of both the technical and management components of entrepreneurial skill to ensure effective commercialization of the technologies developed at the Institute.
As a result, the Techno-entrepreneurship & Techno-economics Division was established in 2011 to drive the commercialization of FIIRO R&D results through different entrepreneurship programmes. It was established to act as an institutional mechanism for providing various services including information on all aspect of enterprises, to create awareness for the need for entrepreneurial culture in the nation, to catalyse and promote development of technology-based enterprises and create opportunities for employment generation through innovation.
Vision
To be a centre of excellence for promotion and development of entrepreneurial society through technology-based enterprises to ensure a job-secured nation and national economic prosperity.
Mission
To conduct techno-entrepreneurship development programme and carry out economic evaluation on investible projects with a view to creating highly productive techno-entrepreneurs who are ethical, and are prepared to succeed in their enterprises for national economy development.
Core Values
Our core values are innovativeness, resourcefulness, integrity, hardworking, proactiveness and ethical standards.
The Division has three Sections, namely:
Techno-economic Evaluation
Techno-entrepreneurship
Marketing Research/Intelligence
FUNCTIONS OF TECHNO-ENTREPRENEURSHIP & TECHNO-ECONOMICS DIVISION
The Techno-entrepreneurship & Techno-economic Division shall have the following functions:

To produce extension/promotional documents including industrial profiles, pre-feasibility reports, e-bulletins and so on for effective dissemination of information to various end users and stakeholders.
To carry out techno-economic evaluation of technologies developed at the Institute with a view to generating investment data for extension and linkage purposes as well as to prepare full bankable feasibility report/business plan on FIIRO projects for the Institute and its clients.
To develop appropriate training modules and extend FIIRO technologies to various end users through techno-entrepreneurship training designed to suit various target groups including students of tertiary institutions, youth, adults, women, etc. To conduct Entrepreneurship Development Trainings.
To deliver/present lectures on "Entrepreneurial Investment Opportunities available at the Institute" at different fora.
To organize Annual Junior Entrepreneurs' Forum and Annual Entrepreneurs' Mentor's Day.
To conduct Certificate Course in Techno-entrepreneurship (3-month) in conjunction with a tertiary institution in Nigeria and to conduct Pre-retirement Entrepreneurial Training Workshop.
To carry out all entrepreneurship related activities at the Institute.
To conduct marketing research in support of economic evaluation activities and carry out market surveys on FIIRO and non-FIIRO projects and develop database for products, raw materials, equipment pricing, and so on
To effectively disseminate R&D results to end user industries, represents and make relevant presentations on behalf of the Institute upon invitation by its various stakeholders.
To continuously develop and implement strategies that will reduce paper responses to enquiries through interactive, friendly and informative auto response system, "frequently asked questions" and to answer enquiries on the Institute's activities.
To continuously provide relevant content for updating the Institute's website to be redesigned in conformity with such content and to promote web based financial transactions with the Institute by its stakeholders.
Current Programmes
The Division is currently running the following Programmes:
3-Month Certificate Course in Techno-entrepreneurship with Yaba College of Technology: CLICK HERE FOR DETAILS
Entrepreneurial Pre-retirement Programme
Preparation of Feasibility Reports/Business Plans to access N220Billion Micro, Small and Medium Enterprises Development Fund in commercial and development banks.
Book Publication
The following published books are available at the Institute through the Division:
Entrepreneurship Development in Nigeria – The FIIRO Experience
Entrepreneurship Development Training Modules
Investment Opportunities for Job Creation
The Division also has six book manuscripts ready for publication.
Our Recent Publications
"Chemistry Entrepreneurship: A Panacea for Job and Wealth Creation" accepted February 2015, Industrial Engineering Letters
On Entrepreneurial Self Efficacy and Entrepreneurial Success: A Conceptual and Theoretical Framework. European Journal of Business and Management, 6 (26): 95-102 (2014)
Our Partners
Yaba College of Technology, Lagos
Lead City University, Ibadan
Federal University of Technology, Akure
Prime Entrepreneurs Development Foundation, Lagos
Metropolitan Polytechnic, Ofa, Kwara State.
Nigerian Opportunities Industrialization Centre, Lagos
Agape Academy, Lagos
Believers' School of Entrepreneurship
Click here to Download FIIRO 2015 Technopreneurs News
E-mail: This email address is being protected from spambots. You need JavaScript enabled to view it.
HOW TO APPLY
Click to fill "Online Registration & Payment Form"
Contact the Division
Mr Ogundeji, Razaque Kayode
Deputy Director (Techno-Entrepreneurship & Techno-Economics Division)
Email address: This email address is being protected from spambots. You need JavaScript enabled to view it. ;
This email address is being protected from spambots. You need JavaScript enabled to view it.
Telephone Numbers: +234 802 7155 981; +234 705 6832 684