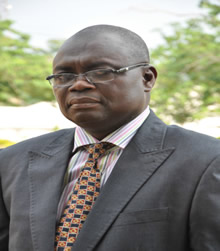 The department was set up with the mandate of providing the needed vital prototype equipment and plant requirements for transforming the laboratory research results of FIIRO into a total package, ready-to-invest form for entrepreneurs and investors/industrialists.  Thus, the Project Development and Design Department undertakes R&D activities in the design and fabrication of prototype equipment, establishment of production process lines/pilot plant commercialization of research results as well as materials and metallurgical processing.
In addition, the department engages in settling up industrial as well as pilot plant production lines to serve as incubation centers for various technologies developed not only by FIIRO but also other stakeholders involved in industrial and technological research.
 VISION STATEMENT
To conduct sustainable, applied and adaptive research and development to produce  equipment prototypes, processes and product development with scale - up capacities and innovative technologies.
 MISSION STATEMENT
To perfect the adaptive and innovative technology of equipment prototyping as proven strategy for cottage, small and medium scale machinery development and production in Nigeria and remain the centre of excellence for machinery development for industrialization 

PDD Research  Project
The PDD Department comprises of five divisions and several sections and units:
1. Fabrication Technology Division
2. Materials Development and Metallurgy Division
3. Project and Process Development Division
4. Prototype Equipment Design and Specifications Division
5. Works and Services Division

Current Research Projects
Solid State Fermentor – for the Ogiri sediment
Grain Washer
Tapioca Roaster
Cowpea dehuller
Briquetting Machine
Cassava Peeling Machine
Rotary Dryer
Vibro-energy Sieve Separator
Tapioca Roaster
Electroplating Rectifier
Dehumidified Vegetable Dryer
Clay-based Roofing Tiles (Developed from local raw materials)
Trona -ore Processing and Refining

Developed Technologies
Small-scale cassava processing plant,
Small-scale flour mill
Instant pounded yam flour and bean flour plant.
Reactor for the production of gum and adhesives from Arabic and cassava starch, respectively.
Ginger roots slicer, peeler and dryer.
Sorghum malting plant.
Groundnut processing plant
Grain destoner.
Dehuller, ferment or and dryer for soy-dawadawa processing.
Benniseed dehuller and oil press.
Okra slicer and dryer.
Solar dryer for fruits and vegetables.
Fish smoking kiln
Pilot plant development and production of Ceramic Glaze
Soap production plant (small and medium scale).
Sugar cane crusher and juicer.
Electroplating plant (including rectifier and barrel).
Foundry furnace.
Hydraulic press
Ceramic glazes
Electrical porcelain insulator
Laboratory Bunsen burners
Biogas digester
Palm wine preservation and bottling plant
Oil expeller
Distillation equipment
Lime kiln
Automatic weighing and dispensing machine.
Dyeing jig.
Extrusion cooker.
Cassava pelletizer and chipping machine.
Cabinet tray Dryer.
CONTACT THE DIRECTOR
DR. ASIRU, WAHABI BOLANLE
Director (PROJECT DEVELOPMENT & DESIGN)
PhD in Agricultural Engineering
Master of Science in Agricultural Engineering
Bachelor of Science in Agricultural Engineering
E-mail: This email address is being protected from spambots. You need JavaScript enabled to view it.; This email address is being protected from spambots. You need JavaScript enabled to view it.
Phone No :+234-8035775861
Skype: bolaasiru
Professional Membership
Registered Engineer, Council for the Regulation of Engineering in Nigeria (COREN)
Member Nigerian Society of Engineers   (M.N.S.E.)  
Corporate Member, Nigerian Institution of Agricultural Engineers (M.N.I.A.E.)
Corporate Member, American Society of Agricultural & Biological Engineers (M.A.S.A.B.E.).
Corporate Member, Nigerian Institution of Food Science and Technology (M.N.I.F.S.T.)